Me
Hi, My names David Henderson and i was born in Banbury and i moved to Bognor Regis about 4 years ago.
I work in Bognor Regis as a Design Engineer for a refrigeration Manufacturing Company; Lec Refrigeration.
I have worked for this company for the past three years!!
This is me showing off my skills!!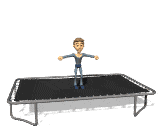 I did do a bit of trampolining, but my girlfriend is much better then me at it!!


Favorites
Here's a list of some of my favorite movies:Sixth Sense, Pay it Forward and Kickboxer.
Here's a list of some of my favorite music:

Robbie Williams, Christina Aguilera, Garage, House and some Trance!!
My Girlfriend Amanda

This is Amanda. We have been together for Four years! we met when i first moved down to Bognor Regis from Banbury.